There are so many things to see and do when on vacation in Puerto Morelos. It's hard to choose just ten, but let's do it!
The list is in no particular order.
1.  Eat, Drink, and Be Merry!
For such a quaint village, there are lots fun places to eat and enjoy a beverage in Puerto Morelos. Here are a few of our favorites:
Cantina Habanero – whose slogan is "Where the weird are welcome…for awhile." It's a fun place to hang out with ex-pats and fellow vacationers. Great food, drinks, and cold cerveza…Delicious fajitas, nachos, burgers, almost anything! They have live music through the week, so check their schedule. Cantina Habanero puts on a Wings Contest, Halloween Party, Margarita Contest and other fun events each year that benefit local charities. Check out the 2017 Margarita Contest:
La Sirena – Owned by Anthony Chalas (amazing guy…and newlywed by the way!) La Sirena is located above Casa Martin, the small grocery on the north side of the square. Sit out on the porch and you'll have a great view of the water and the main pier. If you're lucky, you'll see the local fishermen bringing in their catches of the day. Delicious food…try a burger and mac-n-cheese…delicioso! La Sirena is definitely the place to be for watching sports. Nothing better than sipping on a cold beverage and cheering on your team! If anyone in town is televising the "Big Game," it's La Sirena for sure!!
Al Chimichurri – just south of the square on Rojo Gomez…yummy empanadas, steaks, pizza, and cold beer..sit out on the street and enjoy the local vibe!
EVERYWHERE!! I can't even begin to name all the great places…try Tacos.com (get the Tomadono..my favorite!), La Playita, Bianco, Cancun Billy's, Mi Cocina, El Campanario, DK Puerto Morelos, breakfast at El Nicho, Little Italy (the lasagna is the best EVER!) OK..this is getting ridiculous! Just try them all….eat, drink, and be merry!!
View a current Puerto Morelos restaurant guide here…courtesy of The Little Mexican Cooking School. The list is current as of 11-17.
2.  Visit The Little Mexican Cooking School!

The Mexican cooking classes are an adventure in preparing and tasting authentic and modern Mexican dishes.
Get ready for a fun-filled and inspiring food day that will start with delicious pastry with Mexican organic coffee then an overview of authentic Mexican ingredients and an introduction to the cuisines of Mexico. Make your own tortillas!

You'll participate in the hands-on making of 7 to 8 dishes and authentic drinks. The day will culminate in a full Mexican late lunch of the dishes you helped prepare- a true comida fuerte!
All participants will take home a recipe booklet of the dishes taught that day at The Little Mexican Cooking School, as well as a souvenir apron so you can practice and impress your guests back home!
Classes are about $128 per person and you need to reserve in advance.
Contact Catriona Brown and book here:  The Little Mexican Cooking School
Book online and get an immediate 5% discount by using the COUPON CODE casamarg
The Little Mexican Cooking School chef, Chef Cristobal, has started a walking tour of the colonia to hidden food place gems. It's a lovely add on to the cooking class to gain a better understanding of the cuisine. Check out this site for more information:  Riviera Maya Food Tours
3. Snorkel at the Reef!
Do NOT go home without snorkeling at the reef! Our staff will be happy to help you book a trip or you can walk down to the main pier and reserve a spot. You'll pay about $20-$25 dollars for a two-hour trip. They will pick you up at the house. Take a towel and sunscreen (There is a brand called Mexitan that you can order online or purchase in Mexico. It is biodegradable & safe for the reef). The boat will furnish snorkel equipment and life jackets.
4. Get a Massage! Ahhhh…..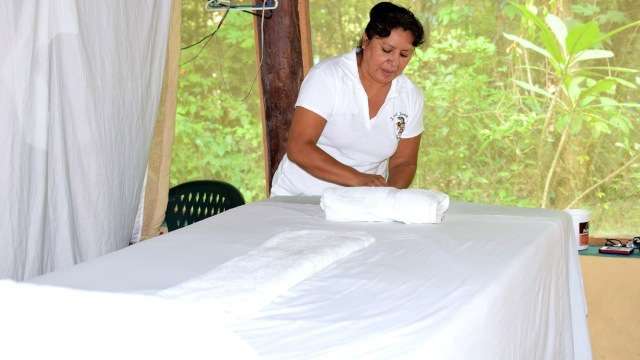 There are several massage tents along the beach, but for a special treat taxi over to the Ixchel Jungle Spa in the Colonia..only about five minute drive. The Jungle Spa is a non-profit organization run by Sandra Dayton. It offers the local mayan women a chance to earn a better income to support their families and ensure that their children can go to school and get a higher education. For reservations and other information, contact Sandra at: The Jungle Spa
There are also several massage therapists that will come to Casa Margarita or Casa del Sol to give in-home massages. Contact them for pricing and availability:
Louise Crawley Contact Louise Here
Gabriela Melian  Contact Gabriela Here
5. Bike Around Town!
Be like these guests at Casa Margarita and enjoy a bike ride around town! These fabulous ladies (The Mad Hatters) were celebrating a 60th birthday with a trip to Casa Margarita in Puerto Morelos. Casa Margarita and Casa del Sol have several bikes guests can use to explore the town of Puerto Morelos.
If you'd like more bikes for your group, Puerto Morelos Green Bikes rents single and tandem bikes. They will deliver the bikes to the houses and pick them up after your stay is completed. Pily Rodriguez Rascon keeps her bikes in great shape and working with her is a pleasure.
Contact Pily by email  HERE
6. Swim in a Cenote!
Mexico's Yucatan peninsula is low and relatively flat with no surface rivers or streams. However, below the ground run the three longest underground water systems in the world which have directed the distribution of human settlement on the peninsula for the last 10,000 years…the world of the cenotes and underground rivers. A "cenote" (pronounced say-NO-tay) is a natural sinkhole created where a cave ceiling has collapsed, a window to this spectacular world. Cenotes were the only source of water in the jungle for the Mayan civilization and are considered sacred by the Mayan people. The Ruta de los Cenotes is a short 15 minutes to the south of Puerto Morelos. Look for the arches above the road to the west of highway 307 just outside of town. There are several cenotes along this road…one of my boys favorites is Verde Lucero:
For a fun day, pack up a picnic and head out to one of the cenotes near Puerto Morelos! If you don't have a rental car, contact Tomas Juarez-Rodriguez (Lighthouse Tours) through Facebook or email him HERE. He has lots options for fun excursions, including an amazing catamaran ride. Check him out!
7. Practice Yoga on the Beach!
There are several yoga classes in town. Mina Wigueras has classes Monday-Saturday at 8:15 three blocks from the main park. Everyone is welcome! Classes are 100 pesos (about $6). Melissa Bechtold has class right around the corner from the houses on Abbey del Sol's rooftop (Mon, Wed., Fri. from 7-8am $10). Cafe Layla also has rooftop sunset yoga classes in the evenings on the south side of town for $100 pesos (about $6). Lots to choose from…Relax, Stretch, and Breathe!!
There is also a free low-impact aerobics class on the pier by the houses every MWF at 8:00am. Brooke Goranson leads the fun one-hour class. You'll be doing a lot of eating and drinking while in Puerto Morelos, so feel a little less guilty by partaking in a class or two!
8. Support the Local Souvenir Shops!
Need to take the kids or grandkids a little souvenir from your trip? Look no farther than the town square. There are lots of little shops on the south side, as well as down further south on Rojo Gomez. The owners will be sure to give you their best deal! 🙂 Everything from clothes, hammocks, pottery, hats, art, and everything in between can be found in Puerto Morelos. Support the local vendors…and that includes those that peddle their wares along the beach. Try some cornbread from the "Cornbread Man" or how about some earrings, ice cream, cotton candy, or handbags! You can find it all right there on the beach! The vendors are not "pushy" at all…just friendly locals who appreciate your support.
9. Go Deep Sea Fishing!

The waters off the Puerto Morelos coast have a wide variety of marine species: Marlin, Sailfish, Mahi Mahi, Wahoo, Barracuda, Grouper, Snapper, Snook, Pompano, and more. That's our son, Brett, showing off his catch a few years ago. For the perfect boat for your group, contact Tomas Juarez-Rodriguez (Lighthouse Tours) through Facebook or email him HERE.
10. Join Michael Maurus for a Photo Walk!
Michael Maurus, the town photographer extraordinaire, has started "Photo Walks" around the Colonia and also the Beach side. Two hours at $59.00 USD per person is a such bargain for all the photography tips you'll get. Michael promises to make a better photographer out of you and any camera that you choose to use! Michael is a professional photographer that has taken lots of photos for rental sites, restaurant menus, and family memories. Great guy! You'll  love this two-hour adventure! Contact Michael on Facebook:  HERE

If you have some time, check out this interview with Michael about living in the jungle on the Colonia side of Puerto Morleos! Wow! Don't know if I could do it…could you??